Digitize The Nation
Service │ Change │ Leadership │Innovation
Issue 33 │ August 2022
Greetings and Welcome!
The Journey we started in 1990 has been continuing with lot of maturity, growth, experience, dedication and success throughout its chronology. There are so many success stories that the Daffodil Family have achieved over the time. This newsletter is our mouthpiece. Through this platform, we have attempted to gather a glimpse of success that the Daffodil Family has achieved during the last couple of months. We are grateful to our well-wishers and stakeholders who are always with us in our journey. We believe this work will be able to reflect a reader's mind on Daffodil Family. Please visit http://daffodil.family for more information.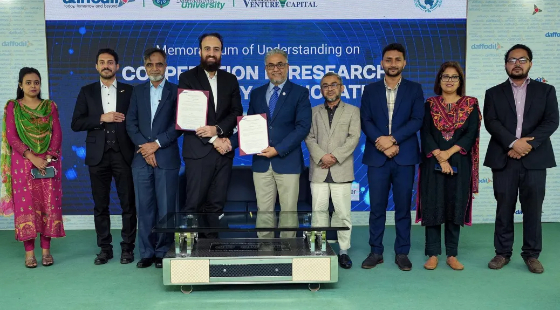 Daffodil International University and Daffodil Family sign MoU with D-8 Technology Transfer and Exchange Network, Iran
Aiming to extend mutual cooperation in research, technology, and innovation a memorandum of Understanding (MoU) was signed by Daffodil International University (DIU), Daffodil Family, and D-8 Technology Transfer and Exchange Network (D-8 TTEN), Iran. In this regard, a D-8 TTEN delegation visited Daffodil International University on July 28, 2022. During the signing ceremony Dr. Md Sabur Khan, Chairman of Daffodil Family joined through Online and guided the prospects and cooperation in Research, Technology, Entrepreneurship Development, and Innovation between the two countries.
Daffodil Technical Institute (DTI) Distributed Laptops to the Meritorious Students!
Software Development Agreement DCL and RTM Al-Kabir Technical University
JPT Inauguration ceremony was held in Dhaka, Bangladesh
Parents Meeting-2022 was Organized at Daffodil Polytechnic Institute
participation in Education
| BTHM Practical Lab Inauguration' 2022 | Admission.ac Organized UK-USA Education Expo 2022 |
| --- | --- |
| Eminence College Organized Orientation for the Students! | Study Tour Organized by Daffodil International School |
| --- | --- |
| Daffodil International University Stands next to flood victims | Parents' Meeting was Held at Daffodil International College, Dhaka |
| --- | --- |
Parent-Teacher Meeting Held at DIS
BSDI, Chandpur Computer Department Organized Study Tour- 2022
Eid Reunion Celebrated at Daffodil International School
3-day long Guardian meeting and Exchange opinions with the 1st Year Students Held at DIC, Chandpur.
Study in China Online Education Exhibition 2022 by Admission.ac
posts from SKILL JOBS FORUM