Digitize The Nation
Service │ Change │ Leadership │Innovation
Issue 31 │ September 2021
Greetings and Welcome!
The Journey we started in 1990 has been continuing with lot of maturity, growth, experience, dedication and success throughout its chronology. There are so many success stories that the Daffodil Family have achieved over the time. This newsletter is our mouthpiece. Through this platform, we have attempted to gather a glimpse of success that the Daffodil Family has achieved during the last couple of months. We are grateful to our well-wishers and stakeholders who are always with us in our journey. We believe this work will be able to reflect a reader's mind on Daffodil Family. Please visit http://daffodil.family for more information.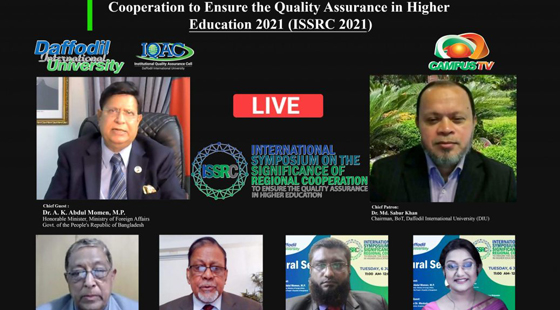 Daffodil International University hosts International Symposium on 'The Significance of Regional Cooperation 2021' to ensure the quality assurance in Higher Education
The Institutional Quality Assurance Cell (IQAC) of Daffodil International University (DIU) has organized an international symposium, naming, 'International Symposium on the Significance of Regional Cooperation 2021' to ensure the quality assurance in higher education' held today on 6 July, 2021, in a virtual platform, followed by three vital parallel sessions. Renowned quality education (QA) practitioners, academicians and government officials of India, Malaysia, Nepal, China, Turkey and host Bangladesh presented 12 Papers in the sessions.
Daffodil launches 3D virtual platform "Virtual Gate" for the first ever in Bangladesh
DIU sets up 'Pilot Training-6 Aircraft' in Campus to introduce students directly with Aviation and Aeronautical Technology
Prof. Mahbub Ul Haque Majumder appoints as Pro-Vice Chancellor of DIU for the second time
Mr. Jafar Ahmed Patwary has been promoted as General Manager of Daffodil Computers Ltd.
participation in Education
| Smart Edu ERP won BASIS National information and communications technology Award | DIU paid homage to Bangabandhu Sheikh Mujibur Rahman and holds virtual discussion |
| --- | --- |
| Bangladesh Skill Development Institute Celebrated World Youth Skills Day 2021 | Outstanding Results by the Students of BBA Department of Eminence College |
| --- | --- |
| Two DIU Students Sajjadur and Prapty win BASIS National ICT Award-2020 | Prize Giving Ceremony based on 2nd Semester Exam 2021 at Daffodil Chattogram |
| --- | --- |
DIU Student Marsha obtained Full-Funded CCIP Scholarship in USA
DIPTI achieved NTVQF Affiliation under BTEB
DIU & VSU jointly host workshop on 'A Passage to Russia'
Virtual to Physical Campus at Daffodil International College, Dhaka
A POST BUDGET E-DISCUSSION ON 'REFLECTIONS OF BANGLADESH NATIONAL BUDGET 2021-2022 AT DIU
Daffodil International University co-hosts ISCANT-2021
WEBINAR ON INFINITUDE ARTISTRY OF THE STUDENTS DURING PANDEMIC ORGANIZED BY DIS, EM (DHANMONDI)
DIU Student Parban Roy's Short Film 'Panchali' in 'Italy's DI Cefalu Film Festival'
A virtual discussion meeting on 'Creating awareness against Coronavirus' has been arranged in DIC, Chandpur
ONLINE ORIENTATION PROGRAM OF DIS, EM HELD FOR THE SESSION OF 2021-2022
Webinar on Pathway to Becoming a Robotics Developer organized by DIC
posts from Skill Jobs FORUM