Digitize The Nation
Service │ Change │ Leadership │Innovation
Issue 24 │ October 2020
Greetings and Welcome!
The Journey we started in 1990 has been continuing with lot of maturity, growth, experience, dedication and success throughout its chronology. There are so many success stories that the Daffodil Family have achieved over the time. This newsletter is our mouthpiece. Through this platform, we have attempted to gather a glimpse of success that the Daffodil Family has achieved during the last couple of months. We are grateful to our well-wishers and stakeholders who are always with us in our journey. We believe this work will be able to reflect a reader's mind on Daffodil Family. Please visit http://daffodil.family for more information.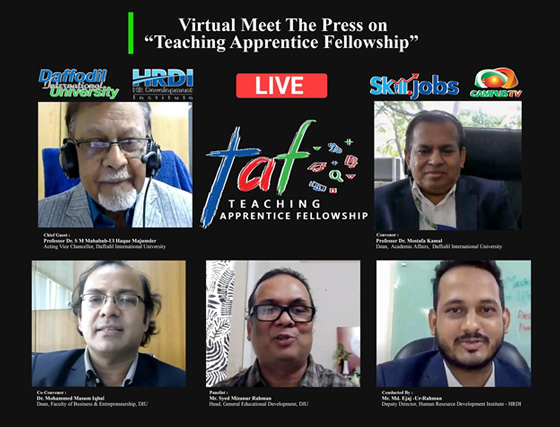 Daffodil International University introduces 'Teaching Apprentice Fellowship' Program
Daffodil International University (DIU) is going to launch the 'Teaching Apprentice Fellowship (TAF)' program with the aim of creating skilled and trained teachers for the 21stcentury. Through this fellowship program, the fresh Graduates will get the opportunity to develop themselves as a teacher or reseachers. This fellowship program will run for one year.
These information were presented today (24 September) by Professor Dr. Mostafa Kamal, Dean, Academic Affairs of DIU and convener of the TAF program through an online press conference. The press conference was also addressed by Professor Dr. SM Mahbub Ul Haque Majumder, Acting Vice-Chancellor of DIU, Professor Dr. Engineer AKM FazlulHaque, Registrar, Professor Dr. Masum Iqbal, Dean, Faculty of Business and Entrepreneurship Syed Mizanur Rahman, Director, Students Affairs, and Ejaj-Ur-Rahaman, Deputy Director of HRDI.
Closing Ceremony of "Daffodil International Symposium on Hospitality"
Daffodil International University achieves Milestone in Scopus Publications
Daffodil Polytechnic Institute Brought Life Insurance for Students-Parents
Brilliant Success of MBA Program of DIIT NU
program AND EVENTS OF DAFFODIL FAMILY
| A webinar was held @ DIA on "Introduction to Data Science Courses" | 320+ students has joined in Foundation class of Daffodil Polytechnic Institute |
| --- | --- |
| Award Giving Ceremony for Writing Competition 2020 at Daffodil Chattogram | DIU hosts e-talk on 'Role of Academia making Student life-Ready' |
| --- | --- |
| Intra Branch Spelling and Quiz Competition 2020 | International Peace Day Celebration |
| --- | --- |
First Parents Teachers Meeting
Parent-Teacher Meeting at DIS Uttara
Spelling and Quiz Competitions
Online Extempore Speech Competition 2020