Digitize The Nation
Service │ Change │ Leadership │Innovation
Issue 25 │ November 2020
Greetings and Welcome!
The Journey we started in 1990 has been continuing with lot of maturity, growth, experience, dedication and success throughout its chronology. There are so many success stories that the Daffodil Family have achieved over the time. This newsletter is our mouthpiece. Through this platform, we have attempted to gather a glimpse of success that the Daffodil Family has achieved during the last couple of months. We are grateful to our well-wishers and stakeholders who are always with us in our journey. We believe this work will be able to reflect a reader's mind on Daffodil Family. Please visit http://daffodil.family for more information.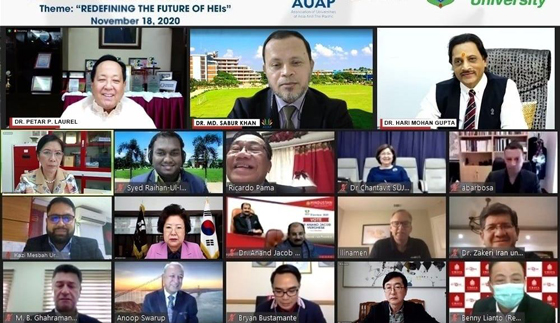 DR. MD. SABUR KHAN ELECTED THE FIRST VICE PRESIDENT FOR 2021-2022 OF AUAP
A delegation of Daffodil International University (DIU) led by Dr. Md. Sabur Khan, Chairman, Board of Trustees, DIU has joined 14th General Conference of Association of Universities of Asia and the Pacific (AUAP) dated on 18 November 2020 hosted virtually by Lyceum of the Philippines University, Batangas, Philippines. During the AUAP General Assembly Meeting, Dr. Md. Sabur Khan was elected as the First Vice President for (2021-2022) of AUAP. Likewise, Dr. Peter P. Laurel, President, Lyceum of the Philippines University has become the President of AUAP and Dr. Hari Mohan Gupta, Chancellor, Jagran Lakecity University, India was elected as 2nd Vice President of AUAP. It should be mentioned that after two years, Dr. Khan will lead AUAP as the 17th President for 2 more years till 2024.
BOOK PUBLISHED WITH INTERNATIONAL COLLABORATION BY DIU
DIC CHANDPUR WON THE DEBATE COMPETITION
DR. MD. SABUR KHAN CONDUCTS MASTER CLASS ON ENTREPRENEURSHIP
DIIT INAUGURATES "DIIT TOURISM SOCIETY" CLUB
program AND EVENTS OF DAFFODIL FAMILY
| BSDI-Chandpur has created a milestone of utilizing technology in all Activities | Professional Robotics Courses' Launched at Daffodil International University |
| --- | --- |
| BRAC becomes Champion in DIU Chess Tournament | Celebration of Teachers' Day 2020 at DIS, Uttara |
| --- | --- |
| "THANKS TO PARENTS" PROGRAM AT DAFFODIL CHATTOGRAM | "Newtec Pharmaceuticals Ltd" has launched its CTG depot |
| --- | --- |
DIC celebrated the 'Online Orientation Program' of newly admitted students
Annual PTM of Daffodil International School
Global Handwashing Day held at DIS
posts from SKILL JOBS FORUM