Digitize The Nation
Service │ Change │ Leadership │Innovation
Issue 19 │ March 2020
Greetings and Welcome!
The Journey we started in 1990 has been continuing with lot of maturity, growth, experience, dedication and success throughout its chronology. There are so many success stories that the Daffodil Family have achieved over the time. This newsletter is our mouthpiece. Through this platform, we have attempted to gather a glimpse of success that the Daffodil Family has achieved during the last couple of months. We are grateful to our well-wishers and stakeholders who are always with us in our journey. We believe this work will be able to reflect a reader's mind on Daffodil Family. Please visit http://daffodil.family for more information.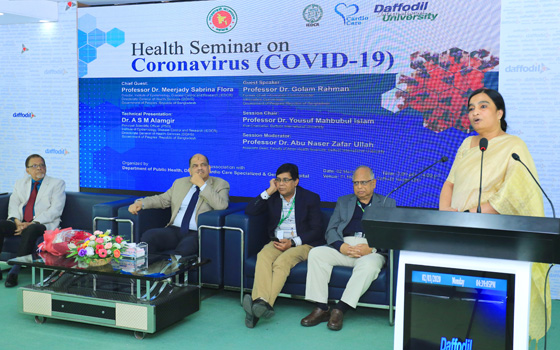 Seminar on 'Outbreak and Prevention of Coronavirus (COVID – 19)' held at Daffodil International University
With the recent emergence of deadly Coronavirus, Department of Public Health of Daffodil International University and Cardio Care Specialized and General Hospital organized a seminar on 'Outbreak and Prevention of Coronavirus (COVID – 19)' today on 3rd March 2020 at 71 Milonayoton of the university. Professor Dr. Meerjady Sabrina Flora, Director, Institute of Epidemiology, Disease Control and Research (IEDCR), Government of the Peoples' Republic of Bangladesh; and the national spokesperson Coronavirus was present at the seminar as the chief guest. Professor Dr. Golam Rahman, Former Chief Information Commissioner, Information Commission, Government of Peoples' Republic of Bangladesh was present as the special guest. Dr. A S M Alamgir, Principal Scientific Officer, IEDCR presented the technical briefing on the latest situation on Coronavirus in the seminar. Professor Dr. Yousuf Mahbubul Islam, Vice Chancellor, DIU presided over the seminar. The seminar was addressed by Professor Dr. S M Mahabub Ul Haque Majumder, Pro Vice Chancellor, Professor Dr. Ahmad Ismail Mustafa, Dean, FAHS, DIU, Professor Dr. A N Zafar Ullah, Associate Dean, Faculty of Allied Health Sciences, DIU.
4-Day 'DaffodilIMUN-2020' began at Daffodil International University
DIU Chairman nominated the Global Board Member of Science, Technology and Innovation Commission of WBAF
DIS students achieved Daily Star Award
BSDI organized Day-long workshop on "Developing Professional Image for Front Desk Executive"
international Mother Language Day
| International Mother Language Day in DIS | DIA celebrated "International Mother Language Day" |
| --- | --- |
| DIIT Chattagram Celebrated Ekushey February | Daffodil International College, Chandpur observed International Mother Language Day |
| --- | --- |
| International Mother Language Day observed in DIC | ২১ শে ফেব্রুয়ারি, আন্তর্জাতিক মাতৃভাষা দিবস ও শহীদ দিবস |
| --- | --- |
program and Events of Daffodil Family
Seminar on "e-Business Market in Bangladesh" held at DIU
Newtec Pharmaceuticals Ltd. held Annual Sales Conference & Picnic
Daffodil Polytechnic Annual Picnic-2020 Held
Falgun and Pitha festival, 2020 Held at DIIT
Preschool Picnic-2020 of DIS
DIS-English Version arranged the Annual Picnic 2020
ICAS Assessment Result in DIS EM
Commemoration of SAARC Charter Day at Daffodil International University
Daffodil International University held orientation for fresher's of Spring 2020