Digitize The Nation
Service │ Change │ Leadership │Innovation
Issue 14 │ October 2019
Greetings and Welcome!
The Journey we started in 1990 has been continuing with lot of maturity, growth, experience, dedication and success throughout its chronology. There are so many success stories that the Daffodil Family have achieved over the time. This newsletter is our mouthpiece. Through this platform, we have attempted to gather a glimpse of success that the Daffodil Family has achieved during the last couple of months. We are grateful to our well-wishers and stakeholders who are always with us in our journey. We believe this work will be able to reflect a reader's mind on Daffodil Family. Please visit http://daffodil.family for more information.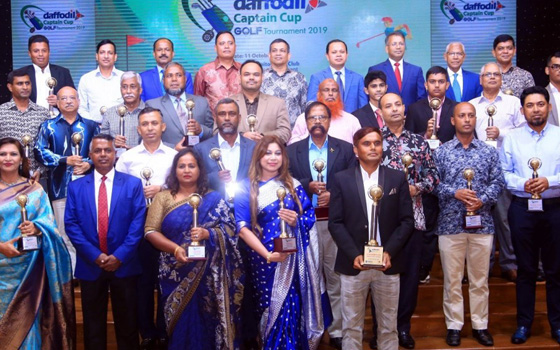 Chief of Air Force distributed prizes among 'Daffodil Captain Cup Golf Tournament 2019' winners
Air Chief Marshal Masihuzzaman Serniabat, Chief of Air Staff, Bangladesh Air Force distributed prizes among the winners of 'Daffodil Captain Cup Golf Tournament 2019' as Chief Guest at Kurmitola Golf Club on Friday, 11 October 2019. Along with Army Chief of Staff General Aziz Ahmed, a total 150 Golfer both Male and Female took part in the tournament in different categories.
DIU hosted National Final of Get in the Ring at Hotel Sonargaon
Dr. Md. Sabur Khan presented keynote at Sustainable Education Meeting 2019 at UN Headquarters, NY, USA
DIIT distributed free laptops among students
Daffodil International University hosted the world's largest ICPC Online Preliminary Contest
participation in Education
| Industrial Tour of DTI students held | Daffodil Polytechnic Institute Organized Job Fair |
| --- | --- |
| Freshers' Reception-2019 celebrated at DIC | DIS students showed mettle in 2nd Bangladesh Robot Olympiad |
| --- | --- |
| SEIP-BWCCI-BSDI PROJECT CERTIFICATE AWARDING CEREMONY HELD AT BSDI | DIS Art Carnival 2019 observed in DIS |
| --- | --- |
DIU Pro-Vice Chancellor received Joy Bangla Personality Award
Deputy Director & Center Head of DIST & CHD Received Sher e bangla Award
Research Division of DIU organized workshop on Formalizing Research Culture at DIU
ROG-STRIX-GTX1660TI-6G-GAMING only at BDT 35600.00 at Dolphin Computers Ltd.
Grandparents Day observed in DIS
3 Professors of Daffodil International University received Bangladesh Education Leadership Award
ASUS PRIME Z370M-PLUS II only at TK 14500.00 at Dolphin Computers
Parents-Teacher Get Together at DIS
Summer Fruits Festival celebrated in DIS