Digitize The Nation
Service │ Change │ Leadership │Innovation
Issue 15 │ November 2019
Greetings and Welcome!
The Journey we started in 1990 has been continuing with lot of maturity, growth, experience, dedication and success throughout its chronology. There are so many success stories that the Daffodil Family have achieved over the time. This newsletter is our mouthpiece. Through this platform, we have attempted to gather a glimpse of success that the Daffodil Family has achieved during the last couple of months. We are grateful to our well-wishers and stakeholders who are always with us in our journey. We believe this work will be able to reflect a reader's mind on Daffodil Family. Please visit http://daffodil.family for more information.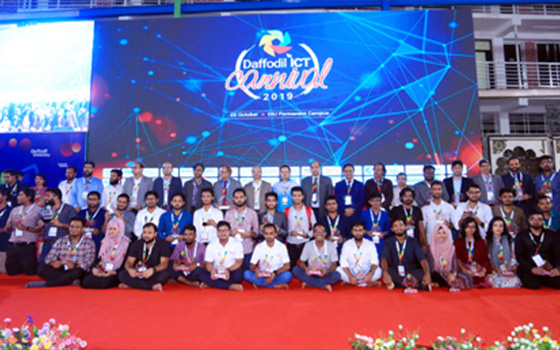 'DAFFODIL ICT CARNIVAL-2019' ENDED AT DAFFODIL INTERNATIONAL UNIVERSITY
Daylong '2nd Daffodil ICT Carnival 2019' ended with colorful event on 26 October 2019 at Daffodil International University (DIU) Permanent Campus at Ashulia organized by Daffodil International University and Daffodil Family. Professor Dr. Sazzad Hossain, Member, IMCT, Research Support & Publication Division of Bangladesh University Grants Commission was present as the chief guest and distributed prizes among winners at the closing and prize giving ceremony of the carnival. Dr. Md. Sabur Khan, Chairman, Board of Trustees, DIU was present at the program as the Guest of Honor.
GLOBAL RECRUITING AGENCY ORGANIZED DAY-LONG 'CAREER IN JAPAN EXPO' AT DAFFODIL INTERNATIONAL UNIVERSITY
DIPTI started ICT training to Bangladesh Army
Parents Day of Fall 2019 held at Daffodil International University
Japanese language N5 & N4 have been launched at BSDI for Career in Japan
participation in Education
| DIU Student's Project Cognition.ai won Tk. 10,000,00 as Bangabandhu Innovation Grant | DIIT Girls Programmer Team at National Girls Programming Contest - 2019 |
| --- | --- |
| Virtual Virus Awareness in DIS | Online Preliminary Contest of National Girls' Programming Contest – 2019 held successfully at DIU |
| --- | --- |
| Orientation & Farewell Program 2019 at DIIT Chattogram | DAFFODIL INTERNATIONAL UNIVERSITY HOSTED "DAFFODIL ENGLISH OLYMPICS 2019" |
| --- | --- |
'PRANPOTATOS-DIU MARKETING FEST-2019' ENDED AT DAFFODIL INTERNATIONAL UNIVERSITY
DIS EM DHN Preschool Field Trip
DIA Celebrate "Indoor Games 2019" and Orientation Program
Global Hand wash Day observed in DIS
First Parents-Teachers Meeting held in DIS
6TH FOUNDING ANNIVERSARY OF TOURISM & HOSPITALITY MANAGEMENT DEPT. CELEBRATED AT DAFFODIL INTERNATIONAL UNIVERSITY
DAFFODIL INTERNATIONAL UNIVERSITY CELEBRATED 'CIS DAY-2019'