Digitize The Nation
Service │Change │Leadership │Innovation
Issue 04│December 2018
Greetings and Welcome!
The Journey we started in 1990 has been continuing with lot of maturity, growth, experience, dedication and success throughout its chronology. There are so many success stories that the Daffodil Family have achieved over the time. This newsletter is our mouthpiece. Through this platform, we have attempted to gather a glimpse of success that the Daffodil Family has achieved during the last couple of months. We are grateful to our well-wishers and stakeholders who are always with us in our journey. We believe this work will be able to reflect a reader's mind on Daffodil Family. Please visit http://daffodil.family/ for more information.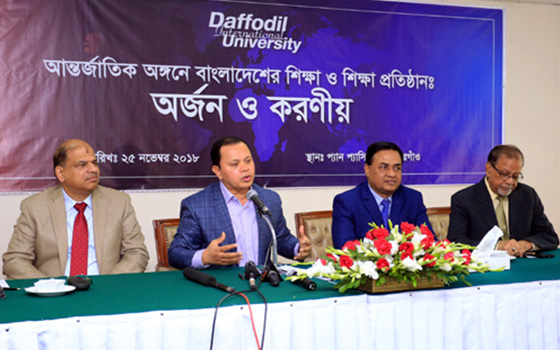 DIU Chairman Dr. Md. Sabur Khan in AUAP Leadership
Dr. Md. Sabur Khan, Chairman, Board of Trustees of Daffodil International University (DIU) elected 2nd Vice President for (2019-2020) and as constitution of AUAP he will lead as 1st Vice President (2021-2022) and President (2023-2024) of Association of Universities of Asia and the Pacific (AUAP). The election was held on 19 November 2018 at Thailand. Achieving this position, Bangladeshi flag is now in global stage. According to AUAP constitution, firstly Dr. Khan will continue his duty as 2nd vice president for two years, then he promoted automatically on 1st vice president and after two years he will be the president of AUAP. That's why forth coming 8 years Dr. Khan will lead this international organization..
 

DIA Organizes Symposium on Emerging Technologies

 
 

KIIT University, India awarded Honorary Doctorate to DIU Chairman Md. Sabur Khan

 
Mr. Md. Sabur Khan Honored with "ICT Businessperson of the Year-2018"
Daffodil Family Inaugurated STEM Lab
participation in Education
| CMS, India Named Mr Khan as "Light of Asia" | DPI Students Topped in Skill Competition in Dhaka Region |
| --- | --- |
| DIU Topped in World Ranking Programming Contest | DIU Chairman led 'CEO Talk Series' in NU of Malaysia |
| --- | --- |
participation in Education
DIS volunteered at 17th All Asia Open Karate Championship
Workshop on 'Funding Mechanism for Entrepreneurs' held in the capital
DIC student became Champion
To ensure secure education life of students DIU Guardians are also brought under Insurance Coverage
DIPTI-DTI annual PICNIC 2018 held with enthusiasm
DBI Offers Special Rent for Co-Working Facilities
Commemorative Discussion on Founder VC of DIU Prof. Dr. Aminul Islam held
DIU - BVCL joint venture on Startup Fund
DIS observed Global Hand Wash Day
BSDI Organized Workshop on "Managerial Leadership in Global arena"
DIU Celebrated Global Entrepreneurship Week
BVCL Offers Funding Opportunity for E-Cab Members
Workshop on Financial Literacy Programme by the World Bank and the British Council